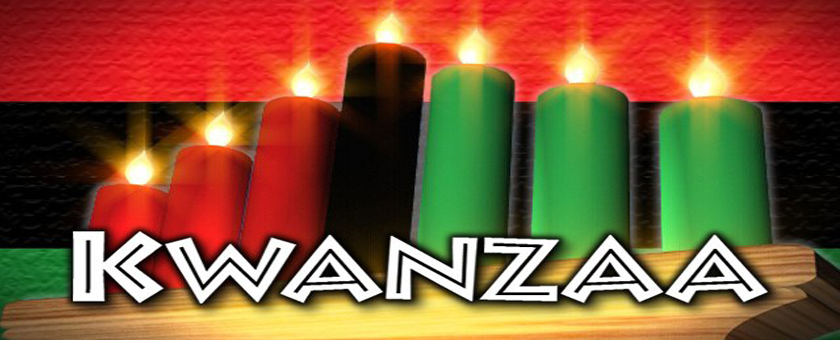 Everything You Need To Know About Kwanzaa
Towards the end of December people of African descent will celebrate the holiday known as Kwanzaa, a weeklong celebration of African culture and values. The holiday is observed December 26th through January 1st and is celebrated in the United States and parts of the Western African Diaspora. African-Americans  celebrate the occasion by paying tribute to their roots and striving to lead better lives.
The history of Kwanzaa:
The holiday was created in 1966 by Dr. Maulana Karenga, founder and chairman of the Black Nationalist Organization and current professor and chairman of Africana Studies at Cal State-Long Beach. The name Kwanzaa is derived from the Swahili phrase matunda ya kwanza meaning "first fruits of the harvest".
Initially Kwanzaa was created to give African-Americans an alternative to the existing Christmas Holiday as well as way for them to stay connected to their heritage. In recent years Dr. Karenga has encouraged African-Americans of all religions to participate in Kwanzaa.
There are seven key principles of Kwanzaa:
Umoja (Unity) – To strive for and to maintain unity in the family, community, nation, and race.
Kujichagulia (Self Determination) – To define ourselves, name ourselves, create for ourselves, and speak for ourselves.
Ujima (Collective Work & Responsibility) – To build and maintain our community together and make our brothers' and sisters' problems our problems, and to solve them together.
Ujamaa (Cooperative Economics) – To build and maintain our own stores, shops, and other businesses and to profit from them together.
Nia (Purpose) – To make our collective vocation the building and developing of our community in order to restore out people to their traditional greatness.
Kuumba (Creativity) – To do always as much as we can, in the way we can, in order to leave our community more beautiful and beneficial than we inherited it.
Imani (Faith) – To believe with all our hearts in our people, our parents, our teachers, our leaders, and the righteousness, and victory of our struggle.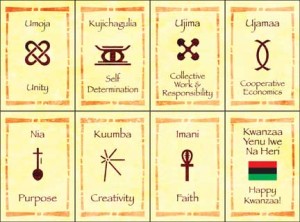 KWANZAA Symbols:
Mkeka – mat
Kinara – candleholder – 7 candles
Kikombre cha Umoja – communal cup for libation
Zawadi – gifts
Red, black, and green flag
Involve The Family In Celebrating Kwanzaa:
It is important that African-American youth feel comfortable with this celebration. Some activities that will help your younger family members and friends feel a part of Kwanzaa is by allowing children to help decorate, set the table, and select gifts. Make the activity of creating personal crafts and gifts fun. Each year Kwanzaa should become a more fun and positive experience for your family and friends.
Dumpling Designs Business Works Within The Principles Of Kwanzaa:
Our company promotes the spirit of Umoja (Unity) by offering everyone apparel options that reflect pride in your individual heritage. The founders of Dumpling Designs embody the idea of Kujichagulia (Self Determination) by striving to fill a void in the commercial apparel market that until now did not offer positive images in a diverse range of complexions and styles. The founders of also recognize the principle of Ujima (Collective Work & Responsibility) by focusing on their success which is a win for the community. Each profitable small business builds a stronger foundation by showing young people that business ownership is an obtainable goal.
Dumpling Designs is a present day example of the principle of Ujamaa (Cooperative Economics). This business was established to provide positive images to the youth who rarely see themselves in a commercial art form. Each item allows the parents and youth alike an opportunity to support a successful business. The fifth principle of Nia (Purpose) is to enlighten the public with the knowledge that all shades of brown, gold, and tan are beautiful and our youth and children should be celebrated.
The sixth principle of Kuumba (Creativity) is reflected in the Dumpling Designs' online precence. With a website that is bright, exciting, and fun to look at we make choosing our merchandise an experience.  Finally there is the seventh principle of Imani (Faith). The creators of Dumpling Designs believe that our children can be taught, mentored, and guided to a more positive and successful future.
As you celebrate the holidays this year please consider shopping for your gifts at Dumpling Designs.
Comments
comments