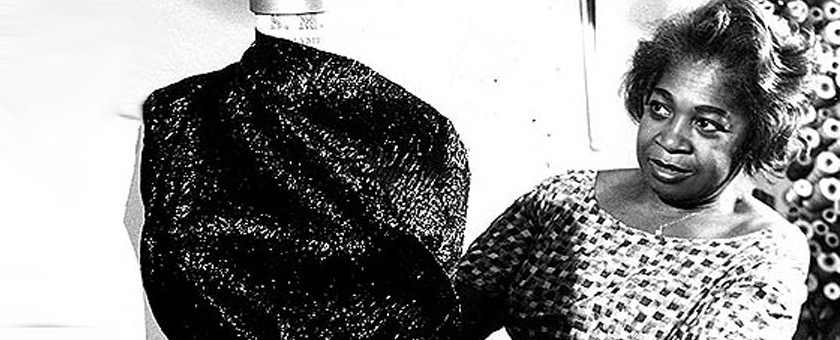 Zelda Wynn Valdes: African American Fashion Pioneer
On our last blog we focused on a black animator who helped inspired what we do today.  On this blog we want to talk about another African-American icon who helped shape our idea of creating clothes and entering the fashion world. If you have never heard of Zelda Wynn Valdes you will be surprised to know how much of an influence she has had in the entertainment world.
In 1905 when Valdes was born in Chambersburg, PA it was probably impossible to think that she would become a trailblazer in the fashion world. But when she was a child she began cutting patterns from newspapers to make outfits for her dolls. She was so curious about clothing that she studied her seamstress grandmother, and worked in her uncles tailoring shop. Learning from her family enhanced her soon to be sought after fashion skills.
Her growing talent allowed her to become  the first black fashion designer and costumer to open her own shop on Broadway in 1948. Even more amazing was the fact that her shop became the first black-owned business nestled among the most sought after real estate in New York City.
Ms. Valdes designed and costumed some of the most famous entertainers in Hollywood and on Broadway including Dorothy Dandridge, Josephine Baker, Ella Fitzgerald, Maria Cole, Edna Robinson and later superstars like Gladys Knight and Jessye Norman. Her long list of clients not only included famous African-Americans, but also those notable Bunnies of Hollywood. Hugh Heffner hired Ms. Valdes to design the Playboy Bunny costumes that made their debut in the 1950's.  The design remains the same to this very day.
Zelda's designs were sought after by many famous females because she had the ability too design dresses and gowns that hugged a woman's body and shape.
Ms. Zelda Wynn, as she soon came to be known, expressed that her rise through the ranks of the fashion world was not easy. Many clients doubted the abilities of a young black female, but she was determined to show them that she was not only talented, but also capable of creating show stopping, stunning designs.
Valdes's Career was jumpstarted when she adorned singer Joyce Bryant, a mega star in the Black community, who also garnered enough mainstream success to do a spread in Life Magazine. Bryant, who was called "the Black Marilyn Monroe", had constant mention in a famous gossip column. Ms. Wynn's form fitting dresses overhauled Bryant's image and she became known more for her sexy styles and dress than as a soprano with a four-octave range. (Bryant's dresses were so tight she needed help to walk)
Zelda Wynn's skintight low-cut gowns catapulted the careers of both women.
According to sex symbol Mae West:
"that Zelda was one of her favorite designers because she knew how to accentuate the curves".
Through out the years Ms. Valdes continued to work and design for Hollywood's most famous Black and White stars. At the age of 65 Valdes' career had leveled off, but she continued to work. Arthur Mitchell, creator of the first ballet company, asked Ms. Valdes to design the costumes for the Dance Theatre of Harlem. Zelda not only designed the costumes, but she also supervised the wardrobe department for the dance group into her late nineties.
Ms. Zelda Wynn Valdes closed the doors of her design business at the age of 83 and retired in 2000. She will always be remembered as woman who did not allow her race or gender to stop her from the success she desired.  So we hope learning about her will inspired you to follow your dreams!!
Comments
comments