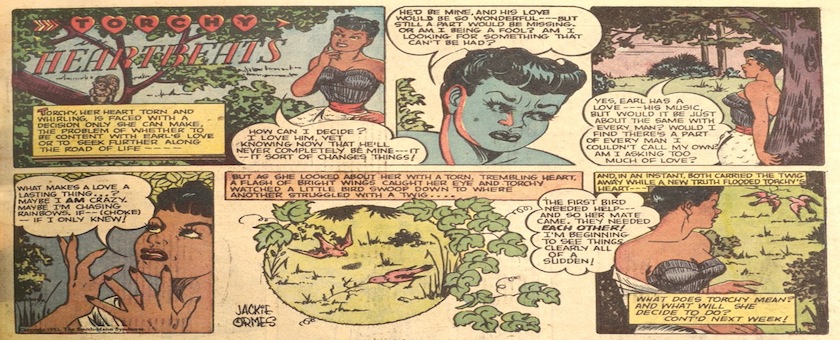 Jackie Ormes: The First African-American Female Cartoonist
One of the things we pride ourselves at Dumpling Designs is our positive imagery of African-American youth. We began our journey towards producing items with black cartoon characters by admiring the great work of those who came before us.
In this blog we want to focus on Jackie Ormes, the first African-American woman cartoonist. Despite her race she became a multiply talented woman who became a successful cartoonist. Ormes's cartoon characters–Torchy Brown, Candy, Patty-Jo, and Ginger–delighted readers of African American newspapers such as the Chicago Defender and Pittsburgh Courier between 1937-1956.
According to Nancy Goldstein, the author of "Jackie Ormes: The First African American Woman Cartoonist" Ormes was unique just for her race and gender but for not being afraid to have important characters that were women.
What she brought was lead characters that were female. They were intelligent, they were sophisticated and witty and sometimes brave. They were shopping, they were going to concerts, taking music lessons, going on road trips – really living the upscale life in a way that defied those stereotypes and caricatures of blacks that you see in comics that were in the mainstream press.
Ormes was not afraid to have her characters do controversial actions. People who knew her say that she modeled some cartoon characters after herself as beautifully dressed and coiffed females, appearing and speaking out in ways that defied stereotyped images of blacks in the mainstream press. In a 2008 NPR story writer Kyle Norris describes one such scene:
It's 1937, and young Torchy Brown is about to board a train that will whisk her away from her small, Southern town to the Big Apple. Suddenly, a sign with two arrows catches her eye. One arrow points to the colored section of the train. The other arrow points to the white section. She jumps back, contemplating what she should do. Torchy, who's black, clever and mischievous, decides to pretend she can't read — and boards the whites-only car.
Over her nearly 20 years as a cartoonist Ormes created scenes just like this. Her influence was felt as her work was viewed throughout the nation.
She also broke barriers by creating the first African-American doll to have an extensive wardrobe. In 1947 Ormes contracted with the Terri Lee doll company in to produce a play doll based on her little girl cartoon character Patty-Jo. At that time the majority of dolls that were based on the mammy and other negative stereotypes. Even though the doll was made available for only two years, it is still a highlight for helping black children see a positive image of themselves.
The talented entrepreneurial sisters that founded Dumpling Designs are following in the tradition of the multi-talented Jackie Ormes by offering something unique; positive cartoon images for children and youth of diverse backgrounds. Please continue to visit our site to learn more about the history of the artist expression of cartoons and the valuable history lesson preserved in the images and comments.
Comments
comments